:: a strong network of partners ::
At B:COMPLEX Creative, we pride ourselves on being able to create solutions for just about any creative marketing need our clients have, from marketing strategy to branding to web design and development to print collateral to multimedia. Full service marketing. Part of what makes us unique is our ability to meet all these creative needs without all the bloated overhead of a typical ad agency.
We can do this because of our Network.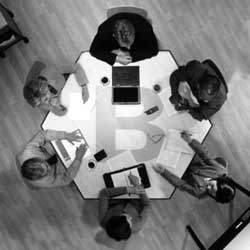 We are part of a partnership of Atlanta business communications specialists with oodles of experience in our respective fields of Business Strategy, Marketing Strategy, Tactical Business Communications, Branding, Web Design, Web Development, Graphic Design, Motion Design, and Multimedia Development.
This means that B:COMPLEX Creative clients have access to the right people for every aspect of creative marketing, while only paying for what they need, and while getting the level of attention they might expect from a boutique creative firm. They're not paying to keep the photographer on staff, or for the account exec's 401(k) match, and they won't get lost in the shuffle of too many clients.
Meet our Partners
Elevation Marketing Group
EMG is a strategic marketing firm that specializes in the development of clear and effective marketing plans as a foundation for solid customer marketing programs, on-target product messaging and clear communications. Their credo -- "Plan to Succeed" -- makes them a perfect complement to our brand-driven design philosophy. Visit ElevationMarketingGroup.com for more information, and for a fantastic crawfish etouffee recipe.
Realize Results, Inc.
RRI is a management consulting firm created to drive client success with a focus on business strategy that emphasizes clear, measurable objectives and prioritization of action and resources. They assist organizations in setting and reaching their objectives, increasing profitability and maximizing company value through focused strategic business planning. We partner with them to help clients tackle business issues that may effect marketing strategy. Visit RealizeResults.com to find out more.
Green Dog Interactive
Green Dog Interactive builds websites that are clean, functional, and easy to use. With a focus on usability and web standards, they are a perfect teammate for our web projects. Visit greendoginteractive.com for more information. Go ahead. We'll wait.